Where, when and how to get here
For those attending in London, the Lyceum Theatre is located in the heart of Covent Garden, at 21 Wellington Street, London WC2E 7RQ.
For those attending the UK tour, please visit thelionking.co.uk for more information.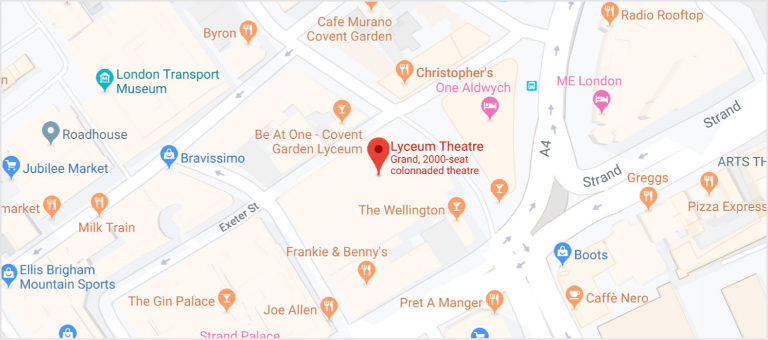 For those attending in London:
BY COACH
Coach parking is available on Kingsway for which there is a charge payable.
Please leave as much time as possible to account for any delays you may encounter navigating through London.
For more information on coach parking please visit Transport for London
BY UNDERGROUND & TRAIN
The nearest train stations are:
• Charing Cross – Network South East
• Waterloo and Waterloo East
The nearest London Underground stations are:
• Covent Garden – Piccadilly Line. Please note Covent Garden station can become extremely busy, therefore it may be best to avoid using this station during peak times or if you are travelling with a very large group.
• Temple – Circle & District Lines (closed on Sunday)
• Leicester Square – Piccadilly and Northern Lines
BY BUS
To reach the theatre by bus, use numbers 1, 6, 9, 11, 13, 15, 23, 68, 77A, 91, 176 or 341 with Leicester Square as the destination. The closest bus interchange for all London routes and night buses is Trafalgar Square.
For those attending the UK tour, please visit thelionking.co.uk for more information.
The front doors of the theatre open 90 minutes before the beginning of each performance – 1pm for matinee performances and 6pm for evening performances. The audience can begin to take their seats 30 minutes before the performance begins.
If you arrive late you will be greeted by the Front of House team who will do their best to accommodate your group and admit latecomers into the auditorium at the next available opportunity.
For those attending the Lyceum Theatre in London, please visit here for all you may need to know. For those attending a tour venue, please visit thelionking.co.uk to select your venue and find more information.
---
Performance Facts
The performance is 2 hours 30 minutes in length including one 15-minute interval.
The recommended minimum age for the show is 6 years old and children younger than 3 years old will not be admitted into the auditorium.
The theatre can provide booster seats however there is a limited number of these seats so it is important to give the theatre plenty of advance notice if you suspect that your group may require booster seats. If you have a primary school group and expect to sit in the stalls, please contact the person or agent with whom you booked to discuss this possibility.
Yes, strobe lighting is used during the show.
No, recording of any kind is strictly forbidden at all times within the auditorium.
---
Workshops Facts
In London, official Disney Theatrical workshops are held in professional studios close to the theatre. As the workshops are not held inside the theatre venue, it is necessary to factor travel time from the workshop venue to the theatre into the day's itinerary. On tour, workshops are held at the participants' school. More information will be made available upon booking your workshop.
The Lion King Education is an Arts Award Supporter.

You can use your pupils' visit to The Lion King to achieve part of their Arts Award in the following areas – 'Arts Award Explore' in which young people collect their arts experiences, recording what they find and enjoy; 'Arts Awards Bronze' in which young people go to an arts event; 'Arts Award Silver' in which young people review arts events and research artists.
We have a wealth of free resources that can assist your pupils' journey to achieving their award including a Behind the Scenes Episodes, Resource packs for both primary and secondary and Getting Ready to Roar (meet the team behind the show).
For more information about how your visit can support the arts award Email TheatreEducationUK@disney.co.uk
Arts Award is a nationally recognised qualification that supports young people aged between 11-25 to develop as artists and arts leaders. Administered by Arts Council England and Trinity Guildhall.
Arts Award is offered at five levels four accredited (Explore, Bronze, Silver and Gold) and one introductory (Discover).
Yes. The Lion King has been awarded the 'Learning Outside the Classroom' Quality Badge. The Education Programme was also voted the 'Best Musical Theatre Education Resource 2016' by the Music Teacher Awards for Excellence.

---
Venue Facts
Only food purchased in the theatre can be consumed within the theatre, however an exception can occasionally be made for school groups. Please enquire with your booking team for more details.
---